Classic modern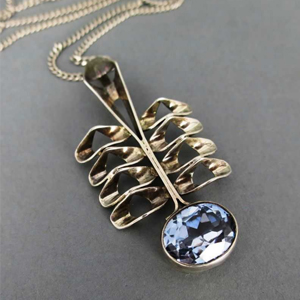 The term classic modernism describes the variety of different, often heterogeneous styles from around 1930. In the war years or during the Great Depression in the 1930s, precious materials such as gold and platinum were a scarce commodity, which also had an impact on jewelry design . Multi-purpose jewelry enjoyed great popularity, and semi-precious stones were also increasingly used by jewelers due to the lack of diamonds and diamonds.
The glamor style of the American society of the 1940s, which we also encounter in many Hollywood classics, could be described as follows: relatively little material tends to create massive but glamorous pieces of jewelry. For example, pendants, chains, brooches or rings are rather large-format, today we would perhaps use the term "showy".
From the 1950s to the 1960s, the formal language of Art Deco of the 1920s was partially taken up again, and mixed with the then current formal language of architecture. Pieces of jewelery were created in the so-called brutalism, later in modern op art. Shapes inspired by nature, such as flower blossoms, conch shells or ferns and colors, are also reflected in the art of jewelery in the classical modern era to this day.