Art Deco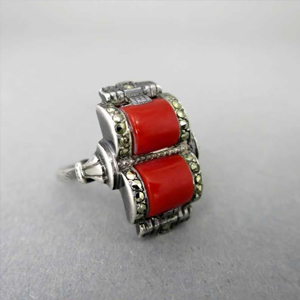 In contrast to Art Nouveau, the Art Déco, which was created in connection with the Exposition Internationale des Arts Décoratifs et Industriels Modernes in 1925 and derived from the French art décoratif (decorative art), lacks a clear stylistic feature. Rather, aspects such as elegance, clear and straight lines, precious materials (e.g. gold, bronze, silver or ivory) as well as contrast and intensity of the colors are in the foreground.
In principle, the Art Deco is actually not a style, but stands for the attitude towards life of the bourgeoisie of the 1920s, which was characterized by a widespread urge for pomp, sophisticated living style and almost excessive entertainment.
Art deco drew its influences and suggestions on form and design from many directions. This includes the clear, geometric forms of classical modernism, the best-known representatives of which include the Bauhaus and the Dutch De Stijl, as well as influences from African, ancient Egyptian or Chinese art.
Antique jewelry from the Art Deco era captivates with exoticism, a daring form and design language, gemstones in white gold or platinum and often bright colors. Or in other words: antique jewelry with more than a touch of extravagance and luxury.